Better showers beyond filtration.
Be the first to pre-order the multi-stage Purifying Shower Head.
Brought to you by Hello Klean, the award-winning brand for hard water.
Relieves dry hair and skin.
Reduces heavy metals and chlorine.
Boosts pressure by 2x.
Saves 25% of water.
ORDER NOW
#1 rated brand for hard water
As seen on BBC Dragons' Den
You know it works when 3 Dragons (Steven Bartlett, Touker Suleyman, and Deborah Meaden) make offers to invest in Hello Klean.
Traditional shower heads fall short.
The average shower head traps minerals, rust and impurities in hard water where they can quickly accumulate—wreaking havoc to the hair and skin.
⁠
The Purifying Shower Head solves these issues through a unique 2-step circular filtration process—while saving 25% of the water and boosts pressure up to 2 times.
SHOP NOW
Game changing.
Redox process: Binds with heavy metals creating new, benign elements kinder for your skin and hair.
Micro filtration: Reduces chlorine, rust, odour and more.
320 micro-nozzles: Reduces water usage by 25%.
Circular filtration: Air is pressurised into the circular headpiece—boosting flow & filtration.
Not your dad's shower head.
Save your skin.

Alleviate dry skin and flareups.

Save your hair.

Rescue dry, crispy feeling hair.

Save your shower.

Boosts pressure up to 2x.

Save your water.

Reduces water usage up to 25%.
Easy to use.
1. Attach to shower hose.

2. Shower happy.
Refillable & Recyclable
Refill with no hassle. Simply compost the ingredient pouch and recycle the casing.
Join 80,000 happy customers.
"After moving to different country my hair and skin was totally devastated because of the hard water. Already after the first use I saw a big difference - it was a lifesaver for me!!!"
Frequently Asked Questions
What's in the Shower Head?

KDF 55 + Amino Acid Granules: Reduces chlorine, unwanted minerals and heavy metals such as lead, chromium, copper, mercury, nickel, and copper. 


Activated Carbon Fibre: Helps reduce trihalomethane (THMs), and odour.
How does it boost pressure?

As soon as the water starts running, a large volume of air is pulled from the handle through the inner circle of the shower head. This boosts filtration whilst pushing the spray of water more quickly towards the user.
How does it save water?

The 320 micro nozzles on the Purifying Shower Head make the outlets smaller and denser. This helps provide an all-directional spray pattern, giving you full water coverage during showering, whilst saving water up to 25%.

A traditional shower head always has unidirectional streams, resulting in a loss of spray force. While as the Purifying Shower Head accelerates the flow and distributes it evenly.
How long does installation take?

Less than one minute.

No tools, electricity, or handyperson required.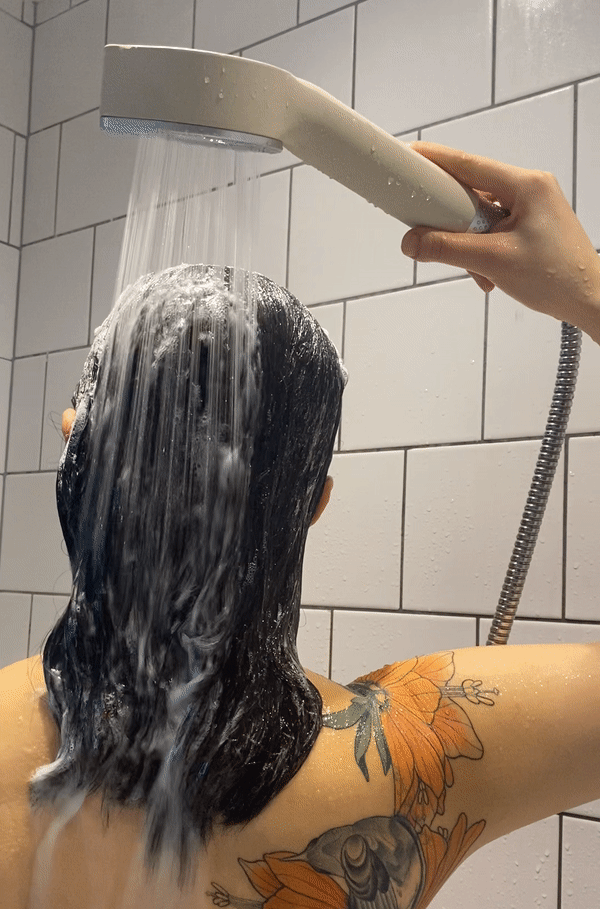 Purifying Shower Head
Rescue your hair and skin from hard water.
Regular price
$84.00
Sale price
$76.00
Unit price
per
Sale
Sold out
View full details