5 benefits of Hello Klean.
Why: better to prevent than to cure.

Here's why we exist:

If you're feeling like your products haven't quite done the job, the water you are washing in could be to blame.
There's no magic cure for baldness, psoriasis and eczema. But you can prevent them from getting worse.
Water affects your skin and hair just as much as the products you use. The earlier you take action, the less you'll spend on fixing issues later.
Skin: reduced dryness & irritation.

Hello Klean products rescues skin and hair from the drying effects of hard water.

Our customers notice:

Reduced flareups & irritation.
No 'tight-feeling' after showers.
No rashes (hives) after showers.
Improvement on KP.
Reduced breakouts.
Hair: restored to its natural state.

Your hair isn't 'just like that.' After using Hello Klean, our customers notice:

Reduced flakes and dandruff.
More bounce and shine.
Hair feels less weighed down.
Restored curls that aren't limp.
Wellbeing: reduced contaminants.

The Hello Klean range is:

Cruelty free & vegan.
Free from sulphates, silicones, fragrance, parabens, EDTA, mineral oil and 1,600 ingredients banned by the EU.
Dermatologist tested and approved.
Clinically proven(lab tested to prove their efficacy).
Formulated for hard water.
Eco: a conscious shower ecosystem.

We're conscious of our environmental footprint:

Shower Filters are recyclable and refillable.
All bottles are made from 100% post consumer recycled plastic.
Plastic free exterior packaging & FSC certified boxes.
Carbon conscious shipping.
+60% of Europe suffers from hard water.
What is hard water?

Hard water contains minerals, heavy metals, chlorine and other contaminants.

What are the signs? Soap not lathering sufficiently, clothes feeling rough to the touch, buildup of limescale, hair and skin issues.
What causes hard water?

Water dissolves chemical compounds. When rain falls onto sedimentary rock, it dissolves small amounts Calcium, Magnesium, Iron, Lead, Copper and more.

From there, the water(containing minerals) travels through the ground, into rivers, lakes and reservoirs eventually coming through our pipes at home to be used for drinking, cooking, washing and heating.
What is chlorinated water?

To prevent contamination, water companies add a disinfectant, such as Chlorine or Chloramine, to kill germs such as Salmonella, Campylobacter and Norovirus.

While helpful in destroying harmful bacteria, chlorinated water is drying to our skin and hair.

Chlorine byproducts gets released as a gas in hot water, prolonged exposure can also lead to health risks.
What about heavy metals and other contaminants?

Shower water can contain heavy metals such as copper, lead, arsenic and more. These are a result of human-led processes — such as pesticides that enter the water supply through chemical waste from factories, city sewage, or rusty old pipes.
Is hard water dangerous?

Minerals such as calcium and magnesium do not pose a threat to human health.

Unfortunately, hard water can contain unwanted contaminants such as radon, arsenic, pesticides and lead.

Additionally, when chlorine mixes with even minute amounts of organic compounds, found in water, they produce harmful by-products, called Trihalomethanes (THMs). These by-products produce free radicals in the body, which trigger cell damage.
How hard water affects your skin and hair.
Minerals penetrate the hair and crystallises as it dries, this causes crispy feeling hair prone to breakage.

Hard water creates soap scum that settle on the skin. It saps away moisture, leaving you with congested, bumpy skin.

Hard water reduces lather and leaves behind a buildup of product residue and minerals which causes itchiness and flakes.
Skin: hard water symptoms
Scalp & hair: hard water symptoms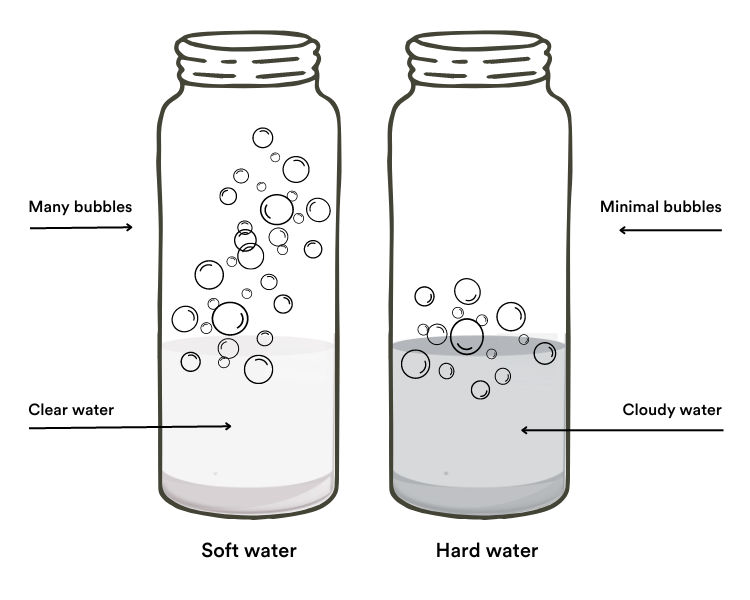 How we help
Shower Filter

Heavy metals & chlorine in hard water bond with ingredients in our filter, creating new elements. Chlorine, for instance, shifts into harmless chloride.

Clarifying Scalp Soak

Apple Cider Vinegar and Phytic Acid gently melts away hard water buildup. The hydrating blend of Fermented Rice Water and Sweet Almond Extract soothes scalp irritation.

Nourishing Micronutrient Wash

The chelating complex binds to calcium and magnesium deposits in hard water. This process deactivates the minerals, thus preventing them from settling on the skin.